A Guide to Hutchinson, KS, Christmas Lights, 2013
Here are some highlights of what Hutchinson, KS, has to offer in Christmas lights and displays in 2013. Some of the pictures were taken prior to this year but I have checked to see that all are lit for 2013 and I will be updating this until Christmas.
First off, if you have limited time make sure you see our most unique display, the "Grandma's House" automations of Dale Hankins at 25 Countryside Drive. Each mechanical grandchild is on its way to Hankins' house via a different mode of transportation.
Here's a video I shot just a few days ago as it snowed on the display.
Dale, a retired nuclear scientist, adds new pieces most years, for background information see our posts from
2007 and 2008
,
2009
,
2010
,
2011
and
2012
.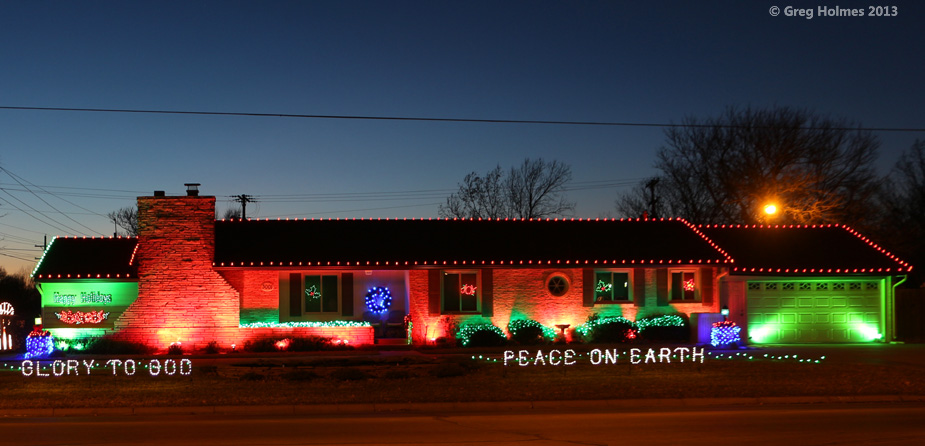 Near Dale's house you'll also find this highly color saturated home at 3001 North Monroe. In addition to lots of LED lights, they've chosen to use their house as a canvas for colored floodlights and have "Glory to God" and "Peace on Earth" signs." There's also a manger scene that faces 30th Ave.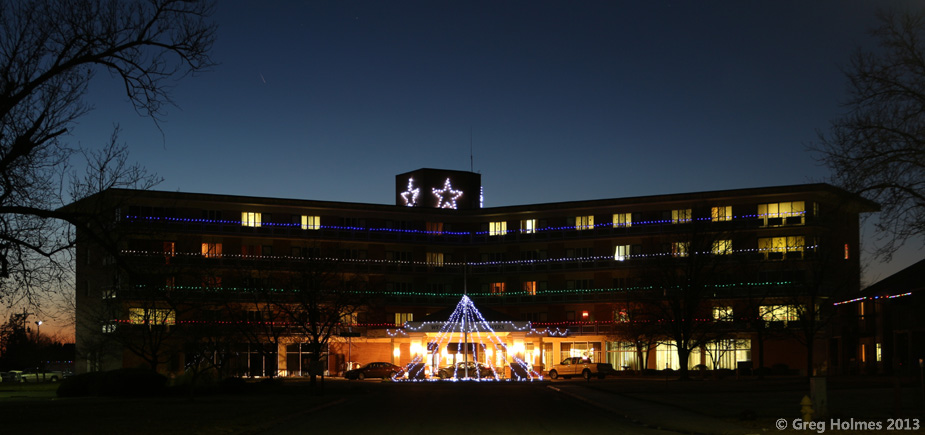 Wesley Towers, a retirement complex at 700 Monterey Place, features stars facing four directions, horizontal architectural lights and a pole tree. Some homes in the neighborhood have smaller pole trees.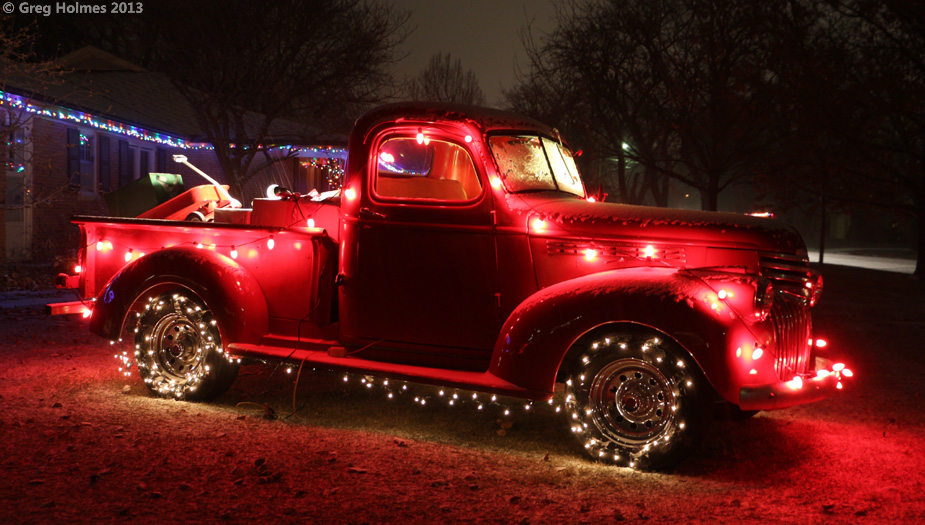 On the NE corner of Carlton and Curtis you'll find this vintage red truck. It's being driven by Santa but he wasn't visible in the snowy windshield the night I shot, so I'll be back.
Neighborhoods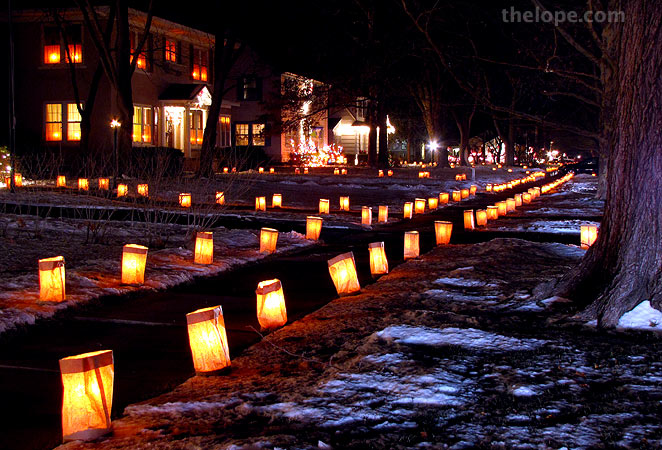 If you're in Hutchinson on December 21, take in the Hyde Park luminaria (one night only). It covers a 36 block area from Main to Monroe streets and from 23rd to 18th avenues. There are usually horse and wagon rides and refreshments. For more info and pictures see this 2008 blog post.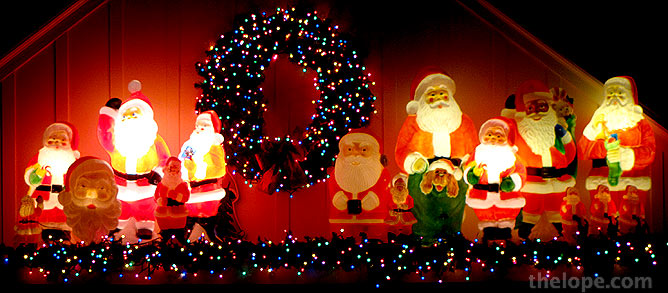 Aside from its impressive luminaria, the Hyde Park area has some wonderfully decorated homes. This resident at 201 West 20th Ave. displays a collection of blow mold Santas.

The largest season-long area of Christmas lights is a half-mile square area of perimeter lights that covers most lawns from East 17th to 23rd Avenues and Meadowlark Lane to North Lorraine St. The tradition started a number of years ago on East 22nd Avenue and typically begins Thanksgiving weekend and lasts til New Years. The house at 62 Meadowlark Lane is a sort of cornerstone of this neighborhood and is often the most decorated.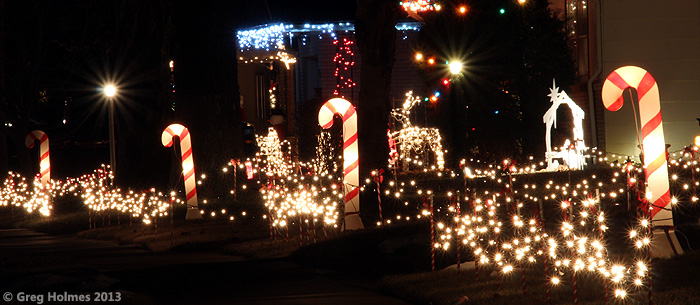 Within this area, part of East 20th Ave. displays blow mold candy canes.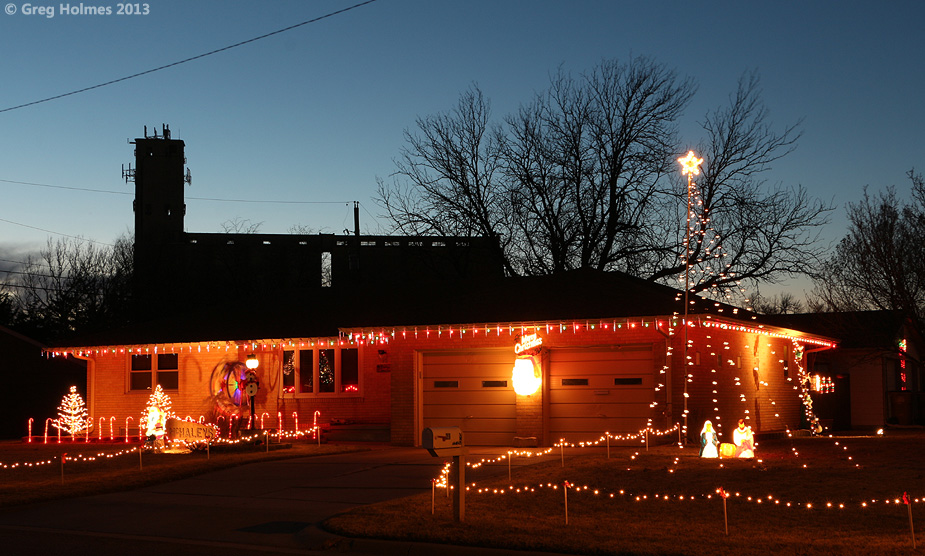 The house at 23 Rambler Road is also quite ornate and has a small
Ferris wheel
with stuffed animals.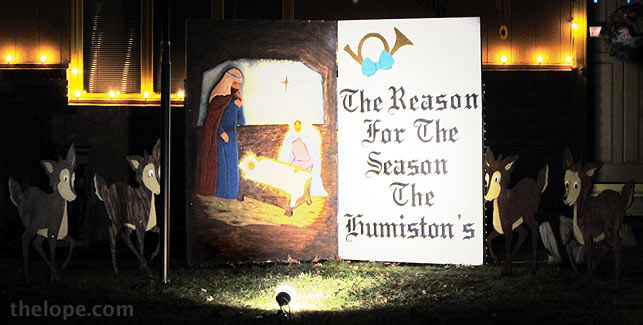 A neighborhood north of 56th street features large wooden Christmas cards, though sadly the tradition is fading. I recommend starting at Sequoia and 56th.

An oval of streets consisting of Brookwood Drive, Wesbrook Drive and Linda Lane displays mail boxes decorated with red and green lights. Just across Hendricks Street from this red and green mailbox neighborhood, Seville Court displays light poles wrapped in red lights.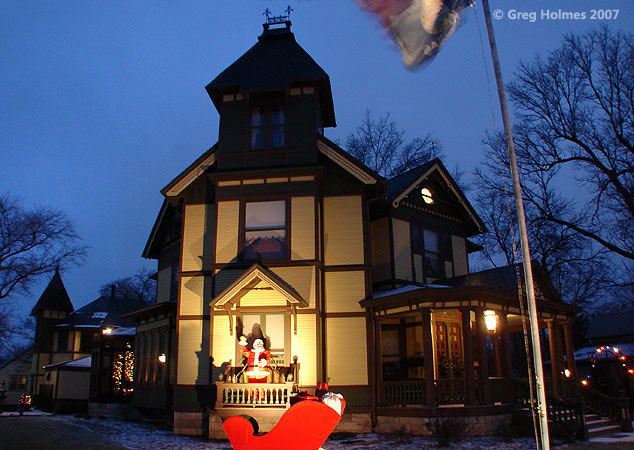 The Houston Whiteside Historical District has a number of decorated homes. This one, at Plum St. and First Ave., features a talking, singing automated Santa. The district is roughly bordered by the BNSF railroad tracks on the North, Avenue B on the South, Elm Street to the West and Pershing Street to the East.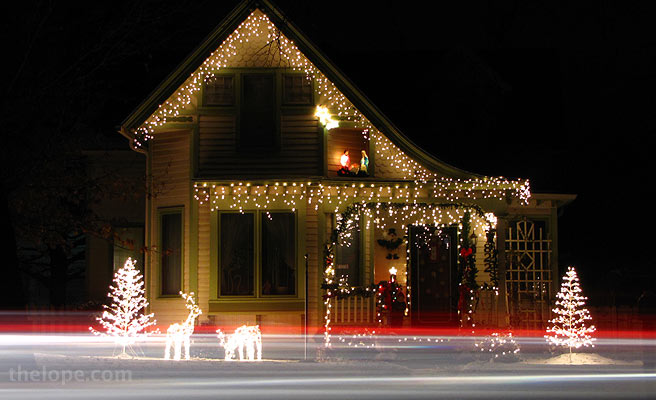 One of my favorite houses lies just outside the Houston Whiteside District on the north side of Avenue A between Pershing and Severance streets. I like it because they utilize an indentation for a nativity scene.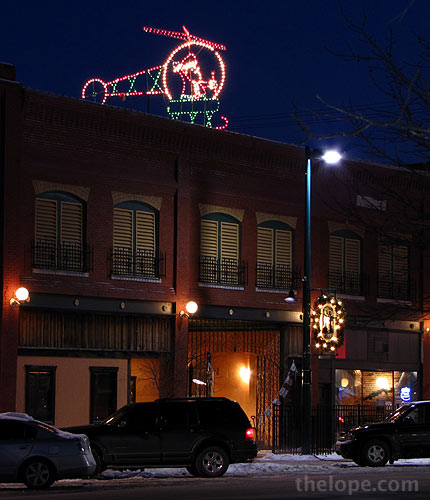 The most prominent Yuletide feature of the Antique District of South Main Street is this this light frame helicopter atop the Anchor Inn at Main Street and Avenue B. This shot is from 2009; It's the same helicopter but the building has more lights now.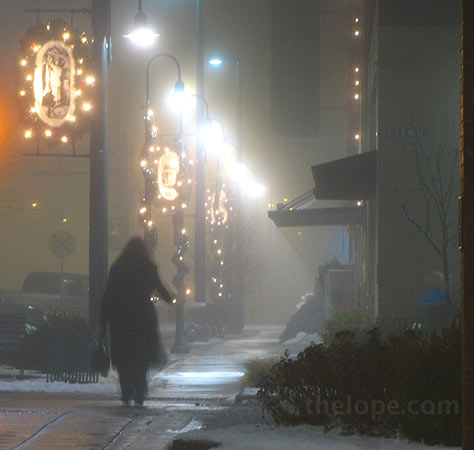 Shopping downtown and in the Antique District can be a delightful throwback to the pre-mall U.S. Here's a foggy night in 2008.
Hutchinson's next Third Thursday event with art, music and shopping will be held downtown and in the Antique District on December 19.
Light and Sound Synchronized Displays
There are at least five synchronized music and light shows in Hutchinson.
1004 College Lane, home of Jason Rose, sometimes features a live Santa. Here's a video of it from 2010.
2602 Heather Parkway is the home of Jon Powell. Set your radio to 107.7 FM.
"David's Display" at 804 Newport Road features a flat screen TV placed against a window with a DVD of Santa within the room and occasionally looking out. Set your radio to 89.7 FM.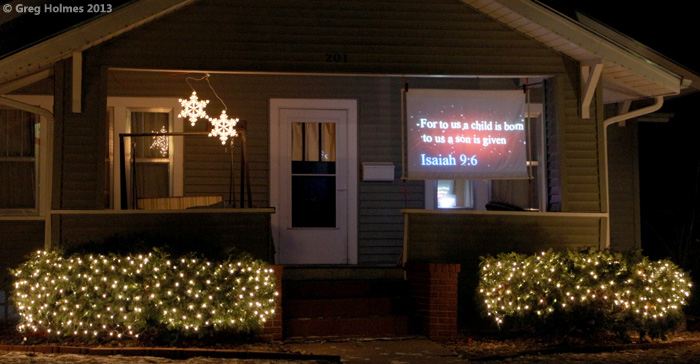 A projection screen on a porch at 201 East 14th Ave shows a religious message. Set your radio to 89.7 FM.
First Church of the Nazarene, 4290 N Monroe, has a set of four singing Christmas Trees. Set your radio to 90.7 FM.
New this year is a display by the Carlson family at 810 East 2nd Ave. Set your radio to 106.7 FM.
"Lights on 26th" at 131 West 26th Ave is not a synchronized display this year as it has been in the past, but does offer Christmas music at 106.7 FM.
Other Hutchinson Christmas Sites of Note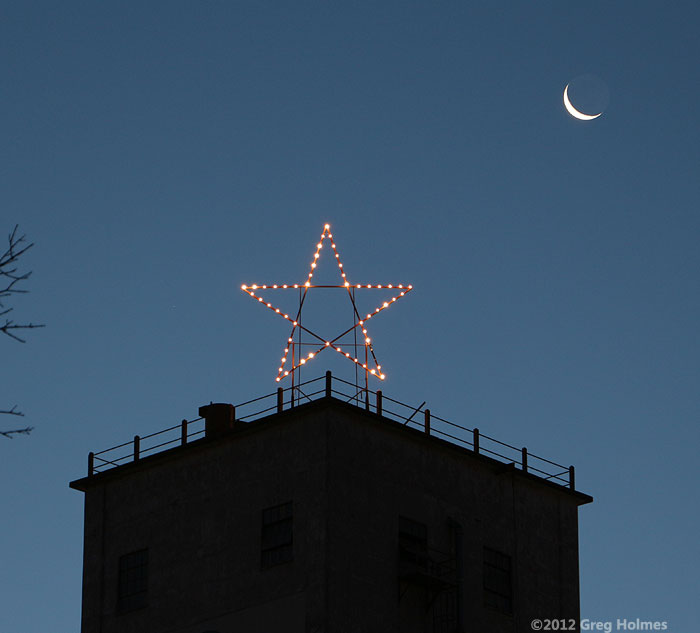 Cargill's grain elevator near 3rd Ave and K-61 features a decades-old star. See more in this
blog post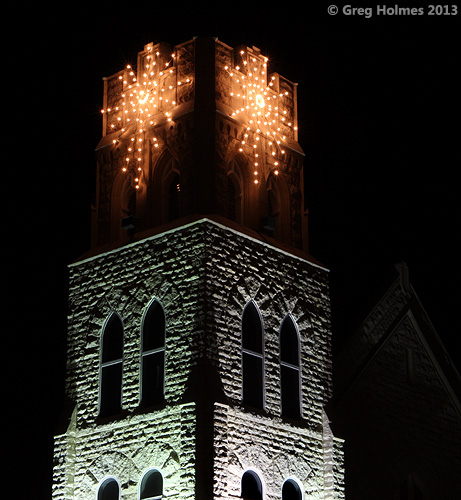 The First Presbyterian Church at 201 East Sherman has star patterns made of lights atop its tower. As of this writing, they turn on at 6 p.m.

A home at 3810 Halstead Street features a backlit poinsettia graphic.