He Sees You When You're Sleeping
For my last Christmas-related post of 2010, I bring you a tale of fiberglass terror.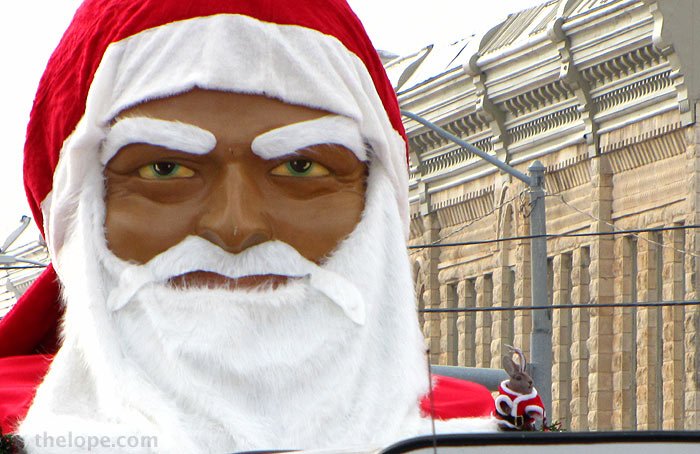 I didn't mean to frighten the children of Hutchinson, Kansas, with "Scary Santa" - honest, I didn't. Notice how even Ace Jackalope is looking away from the thing I loosed upon the Holiday Parade in 2009.
It started so innocently. You see, I love "roadside vernacular" - creative neon signs, motels shaped like tepees, etc., and giant roadside beings.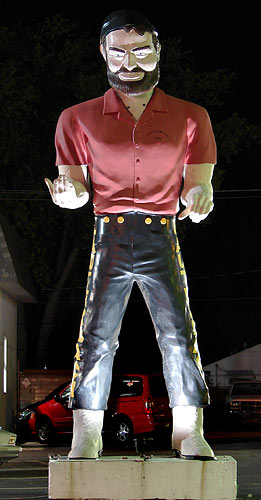 Iconic among these are muffler men, the giants made by International Fiberglass in the 1960's and 1970's. This one belongs to Lauterbach Tire in Springfield, IL.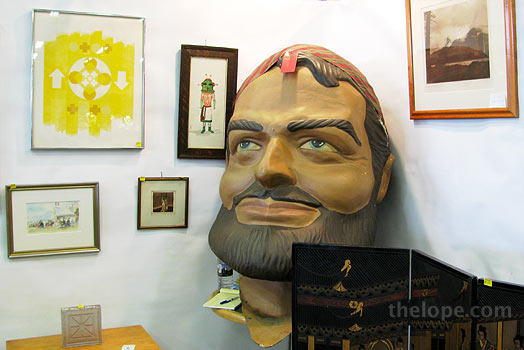 I've photographed these things for years, so when I ran across the disembodied head of a Paul Bunyan variant of the muffler man at an antique show while on a trip with Mia, I happily bought it. (additional pictures with
Charles Phoenix
,
Shag
)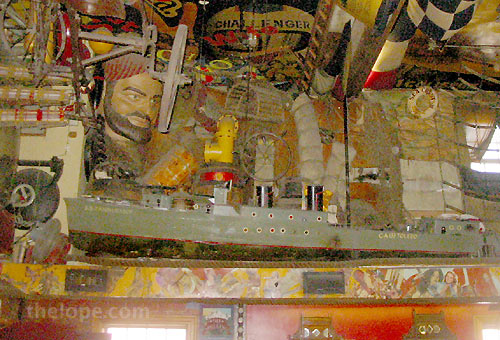 The antique dealer had obtained it in an auction of decorations from a defunct bar called the "The State Armory" in Greeley, Colorado, and shot the photo above before the head's removal. It had been there from 1977 until 2009. I do not know the status of the rest of his body; he'd been, uh... decapitated since at least 1977.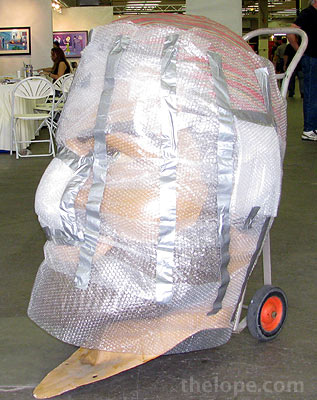 Here he is, mummified in bubble wrap and ready to be put in our rental car. Feel free to make up your own jokes about this. By the way, you need at least an SUV for a muffler man head.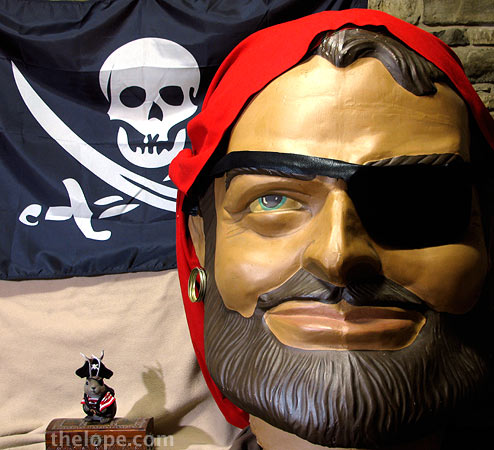 Once home, I put him immediately to work. He was a pirate for
International Talk Like a Pirate Day
.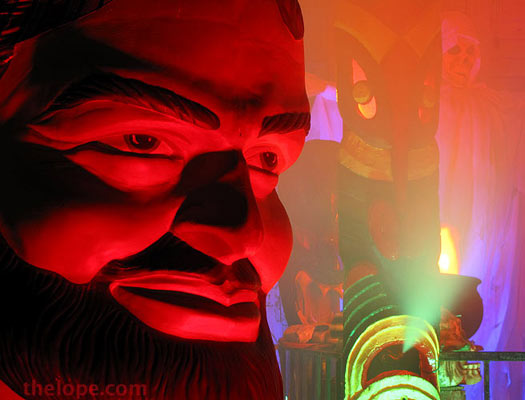 He looked a little too friendly on
Halloween
. By then he'd earned the local nickname "Big, Giant Head" and I let it stick, no offense to 3rd Rock from the Sun intended.
So, how cool would it be to run him in the Hutchinson Holiday Parade as Santa?
Really
cool, I thought.
This would require much planning. Co-conspirator
Sharon Scott
helped me devise the big giant head's parade debut. Christmas maven Patsy Terrell, who had previously worked with
Clarence the Dinosaur
and I, was recovering from an operation and thus has plausible deniability in any role concerning Scary Santa.
Much measuring was involved. The ladies from Prairie Points Fabric helped tailor and build the giant beard, mustache and hat, with Sharon's refinements. We used 3M adhesive poster strips of several designs to hold the fabric to the the painted fiberglass. These are a design that would let us remove the adhesive tab without paint damage. I do not know if the head's paint is original. He actually looks more detailed then other muffler men I have seen, and his complexion is darker, though some of this is from 32 years of nicotine exposure.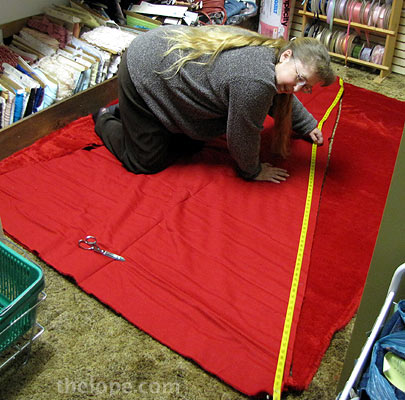 The hat is large enough to be a two person sleeping bag. It wasn't easy to find fabric for this.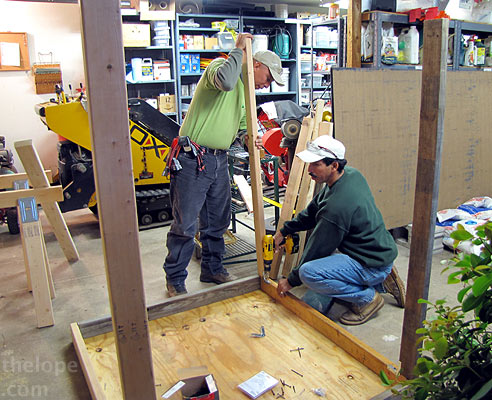 Of course we needed a platform of some type and I thought the only logical way to show a Santa head without it looking decapitated was to imply the rest of Santa was in the chimney. Here, two Honduran elves help assemble the plywood and 2x4 chimney. (additional photo:
Sharon measures
)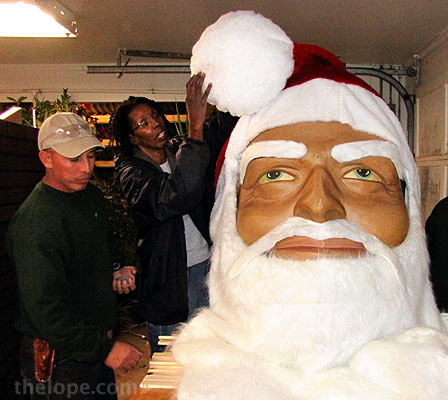 While artist Jocelyn Woodson worked on Santa's...whatever the white puffy thing is on the top of the hat. (
another photo
)
The rest of us tried to figure out how to mount an aging fiberglass relic on top of a wood chimney in such a way that the vibration and g-forces involved in a parade wouldn't damage it. We came up with a tilted base board, custom contoured on top with lathe boards to support the somewhat fragile base of the neck. Eye bolts that were already in the back of the head furnished anchor points for picture wire to guy wire the head onto the base board.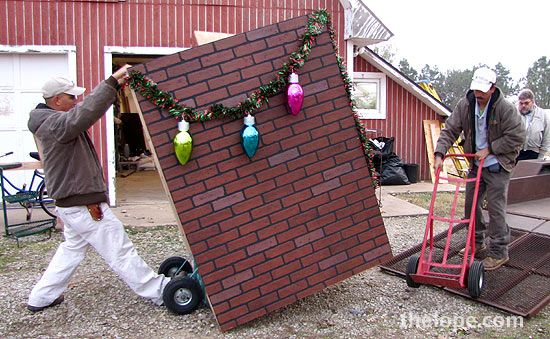 We finished the chimney with fake brick paneling. Garland and some huge shatter-proof ornaments from Target helped break up the space. It is very, very heavy.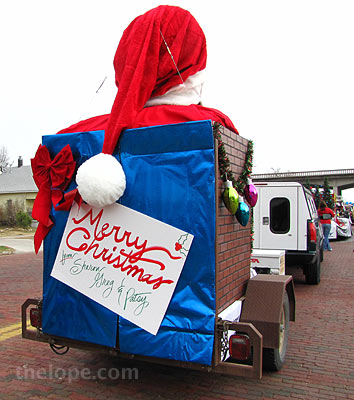 The only trailer we had on which to pull the thing has a tall metal mesh gate on it, so we left the main structure of the chimney open in back and covered the gate with wrapping paper and a Jocelyn-made Christmas card from Sharon, Greg and Patsy. Patsy had helped attach tags to candy canes we would give out.
The open back of the chimney will allow an operator inside should we find a way to animate the head in the future. It might at least turn back and forth on a turntable.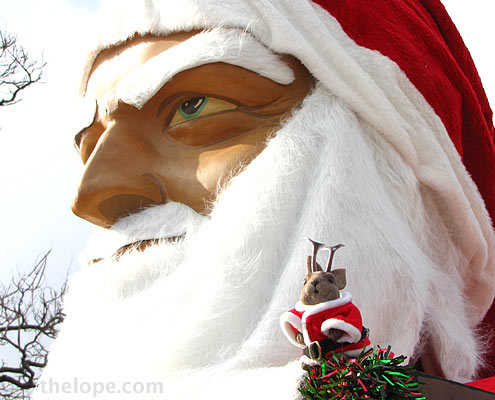 Sharon had arranged the beard to curve under the apples of Santa's cheeks, but, as the fabric was cut in a straight line, this created gaps on both sides which I thought would catch the wind and maybe pull the beard away from the face, so I straightened the beard. This covered the roundness of his cheeks and somehow made him look a bit...well...scary, I am told. I was so wrapped up in the logistics of it at the time that this effect escaped me. Ace was watching the crowd and didn't say anything.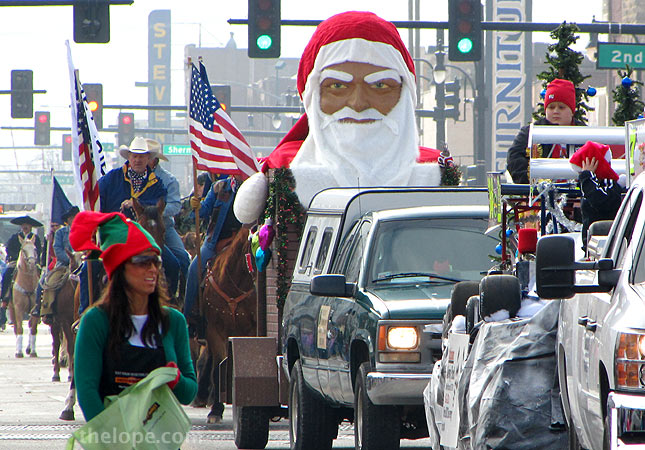 At about 10:30 AM on November 21, 2010, we loosed Scary Santa upon our community.
I really don't think he looks that bad, but he has since gained nicknames like "Jihad Santa", "Stern Santa" and "Scary Santa." (other photos:
1
,
2
,
3
,
4
)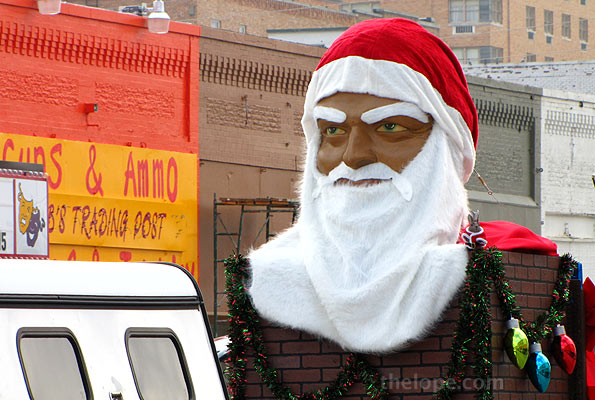 Santa passes Bob's Trading Post, where he can buy Guns and Ammo. Santa
needs
ammo. (photo:
Santa passes the Flag Theatre
)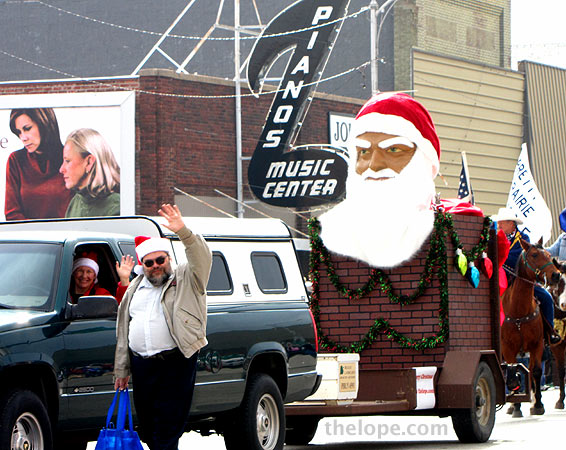 Mark Reddig
came down from Independence, Mo, to help pass out candy canes. Jocelyn and a few others also passed out candy for us. Sharon, the official driver of Scary Santa, waves from her truck. They are passing my favorite neon sign in Hutchinson, that of Johnson Music. (other pictures:
1
,
2
,
3
,
4
,
5
,
6
)
And here's s video from the end of the parade. By this time, Mark had run out of candy canes and sat on the trailer, occasionally telling children he was Santa's brother, Chuck. If you listen carefully, you can hear a little girl shout "Santa looks mad!":
We didn't have the time or manpower to mobilize Scary Santa since 2009 but he's waiting and watching you. Sweet dreams!
Further Adventures
In July of 2013 I was interviewed by Joel Baker, producer of
American Giants
, a web series in which Joel and his crew explore the histories of muffler men around the U.S. I shot these bits of video as he wrangled the head from one room to another in a Wichita church in an attempt to minimize the sound of the rain on the roof. Then a crew member asked if he could try actually wearing the head, Of course, I obliged and hilarity resulted. Joel has since become involved in muffler man restoration and the video featuring me is still in the queue.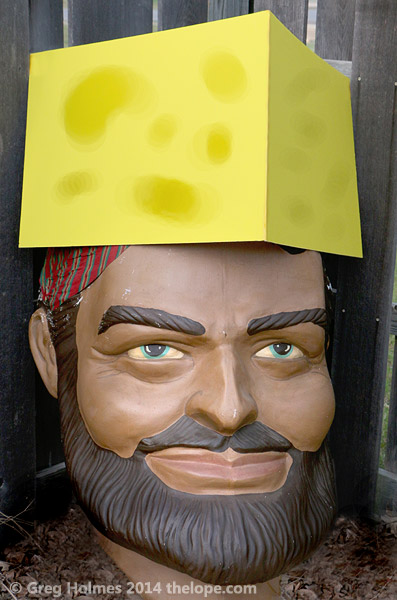 In 2014 the Harley Davidson Museum borrowed the head for their
The American Road
exhibit and I got two trips to Milwaukee and back out of the deal. For the trip, the head needed a cheese hat, of course.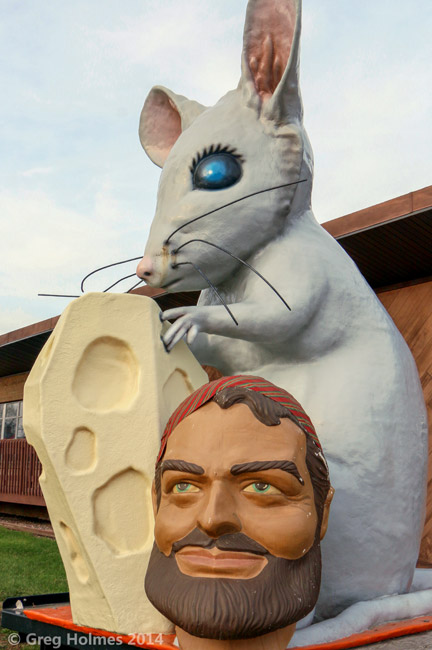 I had to take his picture with at least one Wisconsin icon before we reached the museum so I picked Igor the mouse at Carr Valley Cheese Company in Fennimore.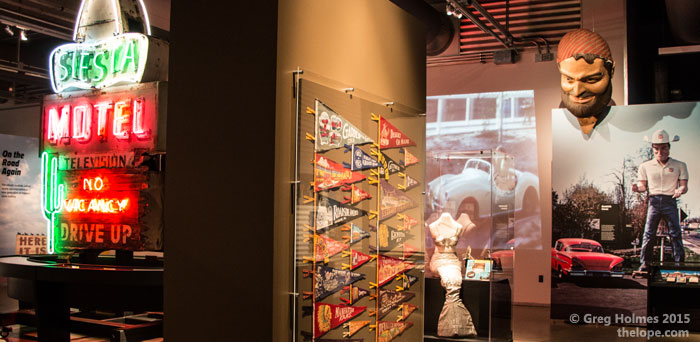 From June 14 to September 1 of 2014 the head kept company with vintage neon signs and tons of travel ephemera.